Light tackles, friendly competitions, and more dancing than expected was seen in Marina Cap Cana this past May 26th thru 28th. Every year, the marina hosts their catch and release White Marlin Tournament where vessels from all over, but mostly Puerto Rico and USA, travel to partake. The tournament was held in a triple category format: Pro, Scope Radar, and Family, with 32 teams going head to head. Though the tournament was a mainly focused on white marlin releases, billfish of all species were valid for points.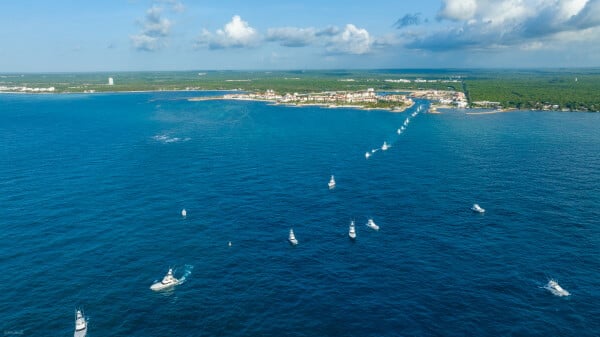 On day one, the captains' meetings were held discussing the rules and categories, where tournament judges addressed questions and comments. Once the sun came down, the teams and their families gathered for some good food, great drinks, and awesome swag. The perfect ice breaker for the first-timers to meet with our local anglers.
All the boats lined up on Friday May 27th, and buoyed as they waited for the 7:15am shootout. A knife in teeth race ensued. Footage came in through the group chat from inside the vessels where the energy was tangible. Lines in! Six minutes later, Juan Colón on the Angela released the first billfish of the tournament. A white marlin, as expected. Fifty five releases total that day. Doña Lucy was ahead in the Pro category with 7 releases; Lasik up with 2 releases in the Scope Radar category; and Sandy with 2 as well in the Family Category.
Day two of tackling and the heat was on! The fight for the finish line was getting tight. By noon, Victoria had closed in on Doña Lucy, and was just one release away from tying. Gamechanger was also making its way up the Family Category, just 200 points below Sandy. While the Scope Radar category remained stable. Thirty four releases later, and the lines were out! Sure, the final scores were going to get settled, but everyone already knew who the winners were.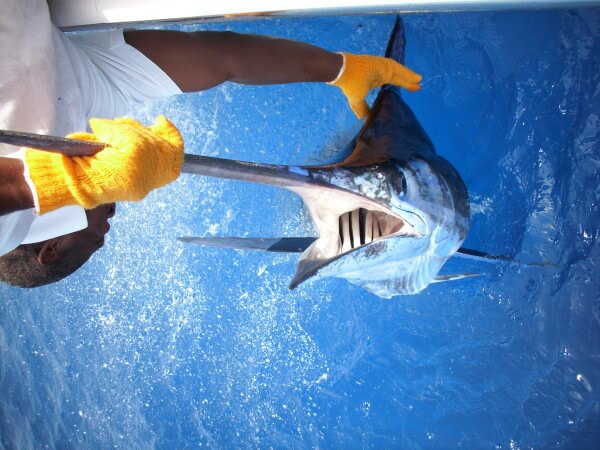 First winner to the marina: Gamechanger. Joantoniel Sanchez snatched the final release that propelled them to 1st place! They arrived with music blowing and horns honking. Marina Director Silvano Suazo greeted with them a bottle of bubbly and a warm congrats. He then proceeded to shower the other category winners alike.
Despite not releasing a single billfish on day two, defending champion Doña Lucy still came out victorious. This team has proven once again that they're the boat to beat. The runner-up was Victoria, followed by Sea Wish in third place for the Pro category. In the Scope Radar Category, Lasik took home the gold, followed by Malcria in second, and Pícara in third. Finally, the Family category was taken over by Gamechanger, with runner-up Sandy, and Penny Maker in third. Despite there not being a lady angler category, we'd like to give an honorable mention to Anamarie Forteza from Fishing Time who released four white marlin throughout the tournament.
After an amazing two days, everyone gathered at Los Establos, Cap Cana for the award ceremony. Sparks flew as the winners stood up on stage, quite literally. The crowd ate, drank, but most of all danced. Anglers swayed their hips and celebrated a tournament like no other; and those who were more coy sang along from their seats. It was a sight to be seen. Join us for our next tournament, the Cap Cana Classic this October 13-15, 2022.